Illumination Time:
Continuously 4-5 Riany Days
Cell Type:
Lithium Battery
Charging Time (H):
6-8 Hours
Usage:
Garden, Street, Urban Trunk Road & Slow Lane
Certification:
CE, RoHS, FCC
With Light Source:
With Light Source
Application:
Urban Road, Pathway Street, Rural Area & Fram
Installation Spacing:
27-31m
Working Mode:
Light Control /Time Control/ Microwavee
LED Light:
60W/36V ,80PCS LEDs
Lithium Battery Capacity:
21ah 25.6V ,LiFePO4
Charge Time:
6-8 Hours Direct Sunshine
Working Time:
Continuously 4-5 Rainy Days
Transport Package:
Carton Package
Specification:
755x440x325mm
2017 New 60W All in One Solar LED Street Lamp Pattern Product Tailor For Street Light Project
Original from Bluesmart.  Smart Solar fly hawk light.
2017 newest Smart All in one / Intergrated Solar Street Light. Perfect design with adjustable solar panel,
Swan series solar street light, your best product to occupy the market.


Say Goodbye to the old all in one solar street light, realize the features of newest all in one solar street light
Sell point (Advantage)
Innovative all in one (integrated) design---we put solar panel, led lamp, li-ion battery, solar charge controller, motion sensor, all in to one unit, each solar light is a stand-alone All-in-One solar system.

360 adjustable solar panel---An adjustable bracket (angle) can tilt and turn to solar panel so it faces towards the sun ensure maximum efficiency of solar energy conversion.

The fourth generation of sensing technology---Microwave Sensor Intelligent Adjustable Brightness, more accurate than PIR sensor, more energy-saving, more humanize.

4 intelligent working modes can be chosen by a hand-hold remoter. Easily switch between different lighting modes.

Smart MPPT controller, automatically adjusts the output power to match variable weather and sunlight input conditions.

Self-contained modular structure design, easy to maintain, battery can be easily replaced if need.

5mins for installation, low cost---no wiring, no digging, no debugging, easy to install, save your 80% cost of installation and labor fee.

Wide Beam Angel Lens---patented light distribution lens significantly improves the light radiance and effectiveness. Lighting area is expanded by 40%, lighting uniformity is increased by 200%.

Optional AC or DC input capability. Solar lights can be equipped with the optional electricity Hybird Controller, allowing the LEDs to run on either battery power or mains 'Gird Utility Power'.

Battery design uniquely features many 'small' lithium iron battery packed into a 'dual' battery assembly that minimizes stress and heat during both discharging and charging cycles ensuring long term reliability.

Using lithium LiFePO4 batteries. Offer 4 times higher discharge depth, 5 times higher cycle life, 4times more storage and power capacity.

All die-casting aluminum light body, patent fly hawk style design, full seal design, can protect lamp from sand and water. The integrated heat sink design provides powerful radiation function, can make LED chip to keep working even in the summer of desert.

Specifications:
 

FLY HAWK SERIES Specifications

 

Model No
BS-SW-60
BS-SW-80
Physical Parameters
 
 
Mono PV Module Power
120W
140W
Lithium Battery Capacity
21AH 25.6V
24AH 25.6V
Micowave sensor

 

Yes
Yes
Sensor Area
25m
25m
Illumination(stand by)
30%
30%
Delay time
10s
10s
Control mode
light control / time control / microwave control / time+microwave control
charge time

 

6-8 hours driect sunshine
discharge time

 

60h
working time
4-5 consecutive rainy days

 

Material of body
aluminum alloy, die-casting aluminum
Lifespan
50,000hours
Light Parameters
 
 
Light Output Factory Settings
60W
80W
Luminous
9600-10800lm
12800-14400lm
Optical Distribution
wide beam lens
Visual Angel
140x70
Color Temperature
3500K-6500K

 

CRI
75RA
Light Control Voltage
5V
working time
Bright Mode
14h
14h
DIM Mode(30%)
60h
60h
Enviroment Requirement

 

 
 
Charge Temperature

 

0°C-60°C
Discharge Temperature

 

-20°C-60°C
Storage Temperature

 

-20°C-45°C
Installation Suggest

 

 
 
Height Recommended

 

7-8m
8-10m
Installation Distance
27-31m
30-35m
Light Pole

 

60-76mm
60-76mm
 
See our flagship product -solar swan light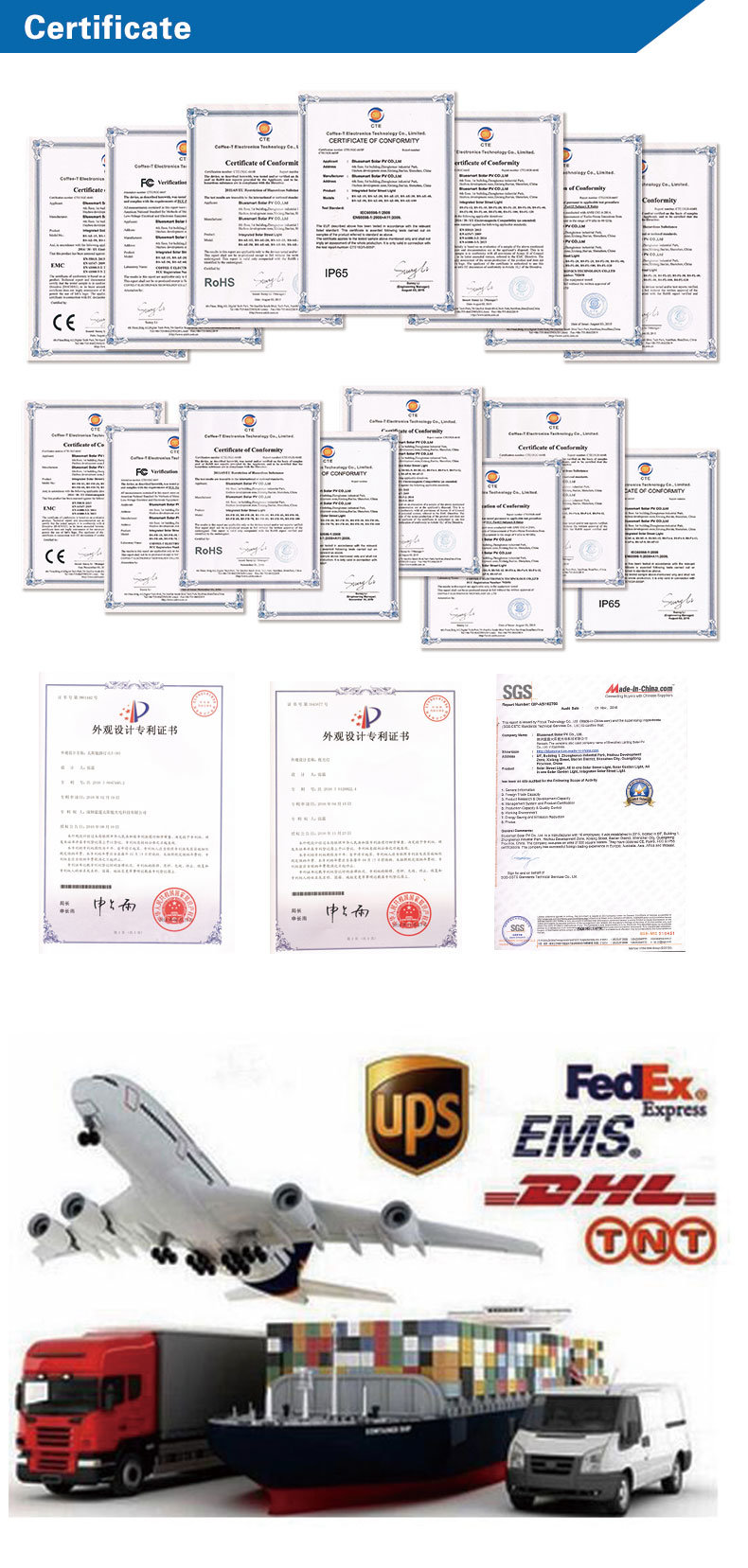 About Bluesmart:
Bluesmart designs and manufactures in shenzhen innovative smart solar street lighting solutions specifically suited for extreme climate conditions.
Provide Access To Energy
Renewable Energy is all around us but we do not have the right infrastructure in place to harvest that energy. 1.3 billion people have no access to electricity, with little chance of being eventually connected to the grid, especially in rural areas. Bluesmart provides public lighting, a first lever of electrification, with a real impact on economic and social daily life. Through our products we want to promote a lifestyle of using alternative sources that will reduce dependency on fossil fuels for energy
Creat Smart Street Lights
Powered by clean and free energy, your footsteps and the sun. Bluesmart Smart Solar Street Lights, Smart Solar Garden Lights, All In One Solar Street Lights, will illuminate streets, parks, pathways, parking lots, highway, corporate and university campuses ect.
Bluesmart: reliable and durable lighting solutions for all, at last!
For more information, please contact Miss Crystal: +86-152-7081-4924
 
Auto Connection Fuse,Auto Connecting-System Fuses,Connecting Fuse,Auto Connecting Style Fuse
Shanghai Songshan Electronics Co., Ltd. , http://www.sh-songshanfuse.com