â–¼
CES2017 Ultimate Guide: The Most Complete List of VR/AR Exhibitors from Baidu VR
The International Consumer Electronics Show (CES) is sponsored by the Consumer Electronics Manufacturers Association of the United States (CEA). This 2017 CES will be held in Las Vegas, USA from January 5th to January 8th. Sr., VR/AR is undoubtedly a major highlight of the conference. So, what are the VR/AR vendors that are worth watching at CES? We worked hard to organize a list of over 80 exhibitors, RBs, and AR vendors at home and abroad, as well as basic information and booth locations. Here's a look at which companies will be unveiled!
CES2017 Ultimate Guide: Pavilion Icon (Click to view the full version)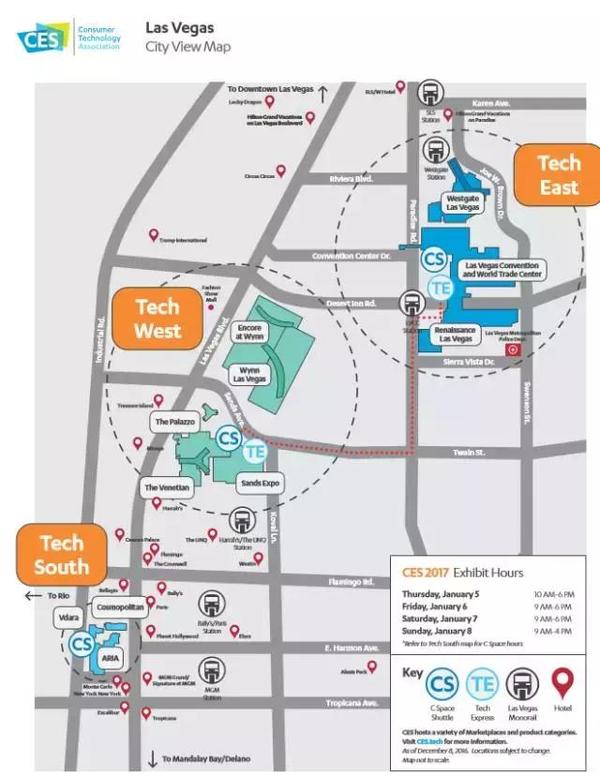 The AR/VR that you are most concerned with mainly depends on the Eastern District.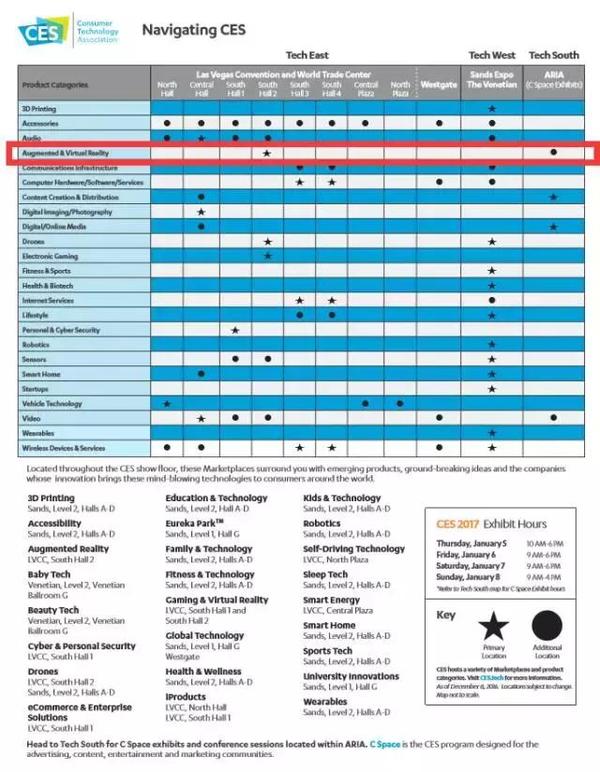 Let's take a look at the big factories
1-Sony
Sony has a booth in the AR exhibition area. In the introduction of the CES official website, it did not mention PSVR. Instead, it stated that it will display innovations in AR headshots, gesture recognition, and AR interaction technologies. Whether Sony will launch AR-related technologies or products at CES is expected.
Booth: 26029
2- HTC Vive
Recently, it was reported that HTC will launch the second-generation HTC Vive at CES, but HTC Vive has officially rumored that the second-generation HTC Vive Headset will not debut CES, only hope that HTC Vive brings you other surprises at CES Now.
Booth: Alsace 1
3- Samsung
Samsung may launch a new generation of Gear VR at CES.
Booth: 15006, 15529
4-Microsoft
It is reported that the Microsoft VR helmet will be available soon in March of next year, and CES will be the best chance for Microsoft to display VR helmets.
Booth: Marco Polo 801
5-Huawei
Huawei CEO Yu Chengdong will deliver a speech at CES and may disclose Huawei's plans for VR.
Booth: 18017
6-millet
Millet VR glasses are already on the market. Whether Xiaomi will have more action at CES is worth looking forward to.
Booth: 30309
7-Funky Bots
Funky Bots is the future of somatosensory games, and the company's Atomic Bands can provide real-time gesture recognition, tactile feedback, and more to support multiplayer gaming experiences.
Booth: 26433
8- Infinity AR
Infinity AR is committed to creating a new digital world, allowing users to naturally interact with the surrounding AR content. The company's AR development engine allows developers to use basic, inexpensive hardware to perform accurate 3D digital simulations of any physical environment.
Booth: 26232
9-Kopin Display Corporation
Kopin Display specializes in military, industrial and consumer-grade head-display technology, including ultra-small displays, optical lenses and smart head related systems.
Booth:26035
10-Maxst Co. , Ltd
Maxst Co. , Ltd is a Korean AR glasses manufacturer.
Booth: 26637
11-NASA
NASA has always had a passion for VR technology. For the past two decades, it has been using VR technology to train astronauts for spacewalking.
Booth: 26044
12-Occipital, Inc.
The most advanced hardware and software developed by Occipital can provide next-generation spatial computing capabilities for mobile devices. The company manufactures 3D scanners, mobile phone depth sensors and related SDKs.
Booth: 26032
13-Octagon Studio
Octagon Studio is dedicated to developing AR/VR solutions and products for mobile phones and wearable devices.
Booth: 26635
14- Osterhout Design Group
ODG is a United States AR glasses manufacturer, is committed to changing the automotive, medical and industrial areas through AR glasses.
Booth: 26236
15- Pico Bird Look Technology Co., Ltd.
Pico focuses on creating the ultimate mobile VR experience. Its main products include Pico 1 virtual reality helmets, Pico Neo and PicoVR App.
Booth: 26932
16-Realmax Technology Limited
Realmax is an AR software and hardware solution provider with unique competitiveness in computer vision, smart eyewear manufacturing and 3D content creation.
Booth: 26041
17-Shenzhen Yunzhi Meng Technology Co., Ltd.
Cloud Dreams specializes in 3D digital technology development and application, and is committed to using 3D technology to change the fashion retail sector.
Booth: 27035
18-Shenzhen Duoxin Technology Co., Ltd.
Dojo was established in 2011, focusing on VR software and hardware technology research, content and application development, covering the VR industry upstream and downstream.
Booth: 26929
19-Sigma Integrale
Sigma Integrale is dedicated to the development of driving simulation systems, training simulators and personalized production systems.
Booth: 26632
20-Smart Theater, LLC
Smart Theater makes VR experience more interesting and stylish through a series of mobile VR heads.
Booth: 26638
21-Hangzhou 3D World Technology Co., Ltd.
Is the leading provider of stereoscopic video display technology as a whole solution provider, has long been committed to the development, production and industrial applications of stereoscopic video display devices. Provides the world's leading naked eye 3D display products, professional industrial stereoscopic display solutions and 3D stereoscopic content services.
Booth: 26924
22-Syndiant Inc.
Syndiant is the world's leading provider of silicon-based liquid crystal microdisplay solutions, providing superior image display technology for near-eye AR headlights, laser/LED projectors, and more.
Booth: 26229
23-Orbbec
Orbbec is a 3D camera manufacturer and has launched the world's first 3D camera Perscape with a built-in full-function computer.
Booth: 26025
24-Vayyar
Vayyar imaging sensors can penetrate obstacles and display a 3D image of the internal structure of the object. Vayyar's 3D sensor technology can see through objects, track targets, and detect situations around users.
Booth: 26700
25-3dRudder
3DRudder is a foot input device, players can move freely in the VR environment, free hands, enhance the game experience.
Booth: 27018
26-Shenzhen Aikun Electronic Technology Co., Ltd.
Aiko Electronics Technology was established in 2005 and its main business includes 3D gaming tablet, VR, gaming keyboard and gaming mouse.
Booth: 26921
27-Storm Mirror
Storm mirror focuses on the mobile VR platform. Storm mirror believes VR/AR technology will be at the center of the next generation Internet revolution.
Booth: 26814
28-very wiki
Extreme Wiki is a VR game content platform, developed a full touch VR controller, and has the technology to convert mobile games to VR versions in 30 seconds.
Booth: 26905
29- Cappasity Inc.
Cappasity is an online store that can easily create 3D, VR/AR shopping experiences. The product includes free software for creating 3D graphics, and can insert 3D graphics into the e-commerce website and mobile application platform.
Booth: 21967
30-CaptoGlove
CaptoGlove LLC is an American startup that specializes in the development of VR gamepads.
Booth: 21964
31-DXRacer
DXRacer is a manufacturer of games and office chairs.
Booth: 26012
32-Fibrum
Fibrum is focused on creating a global VR platform that allows VR users and developers to access high-quality VR content while also producing mobile VR headsets.
Booth: 26724
33-GIROPTIC
GIROPTIC focuses on 360-degree panoramic technology.
Booth: 26417
34-bright wind table
Brightwind is focused on augmented reality core technology and product R&D, with mobile intellectual property augmented reality,
Large-scale, accurate image recognition and other global leading technologies are dedicated to providing the most natural human-computer interaction services.
Artificial intelligence companies that mine the value of the deepest data.
Booth: 26926
35-Homido
Homido is a French mobile VR head display manufacturer.
Booth: 26022
36-HumanEyesTechnologies Ltd.
HumanEyes introduced the 360-degree panoramic VR camera Vuze.
Booth: 26408
37-I AM Cardboard
I AM Cardboard provides mobile VR headsets and is one of the certified partners of Google's "Work for Google Cardboard" program.
Booth: 27014
38-Idealens
Idealens is a virtual reality device, system platform, and content provider. In July 2015, Idealens launched the VR IDEALENS K1. In June 2016, it launched the IDEALENS K2 VR in Tokyo.
Booth: 27011
39-Immersive RoboticsPty Ltd
IMR provides a universal wireless VR solution and has developed a new video compression algorithm.
Booth: 26018
40-InnosimulationInc.
Innosimulation is a Korean company specializing in the development of various simulators, motion platforms and virtual reality systems. Its products include VR motion platforms.
Booth: 27016
41-Insta360
Insta360 (Shenzhen Yi Feng Network Technology Co., Ltd.) was established in 2014, focusing on the development of panoramic imaging technology, with 360° panoramic camera (VR camera) Insta360 as the core product.
Booth: 26608
42-KODAK PIXPRODigital Cameras & Devices
KODAK PIXPRO focuses on 360-degree VR camera technology.
Booth: 26412
43-Shenzhen Aiyun Global Technology Co., Ltd.
Aiyun Global is committed to developing game peripherals such as FPS shooter guns.
Booth: 26500
44-Lumus Ltd.
Lumus is an AR vendor based in Israel and produces high-end transparent near-eye displays for augmented reality, mixed reality technology, and smart glasses.
Booth: 27025
45-Beijing Lingyu Intelligent Control Technology Co., Ltd.
LYRobotix is ​​an innovative company specializing in space positioning technology. It is committed to providing standardized, fully immersive input devices for mobile VR and solving the insurmountable interactive challenges of mobile VR.
Booth: 26808
46-Merge VR
Merge VR is an American VR company. Its current products include Merge VR glasses and VR application website VRSTART. The latest product is a universal controller and more new products will be announced at CES.
Booth: 26220
47-Modiface
ModiFace focuses on beauty AR technology and launches a makeup network/mobile application that allows users to complete virtual face-up makeup on the entire face online. Currently, it provides over 200 AR applications for brands such as Sephora, L'Oreal, and Unilever.
Booth: 26621 , BT312
48-Next Island
Next Island is the first virtual world created for mobile devices. Users can do business in the virtual world, travel time and space, etc. In the future, the VR version of the virtual world will be launched.
Booth: 27010
49-Little School Technology (Shanghai) Co., Ltd.
Little School Technology specializes in VR hardware and applications. It was founded by a group of dream practitioners who have a passion for VR technology. They are the first geeks in the field of virtual reality in China and are deeply involved in communication, internet, wearable, VR/ AR field for more than ten years.
Booth: 27008
50-Realistic MediaInfra-Development Agency
The company is located in South Korea and its focus areas include MR, immersive audio, motion tracking VR interactive systems, and more.
Booth: 26817
51-ReliefbandTechnologies
Reliefband focuses on neuromodulation and wearable technology. The company's products can help treat vertigo caused by motion sickness and VR games.
Booth: South Las Vegas International Convention Center 21762, Sands Expo Center 43457
52-SCALE-1 Portal
The main product of France's Scale-1 Portal is the portable home entertainment VR projection device "SCALee".
Booth: 26611
53-Shenzhen Chenhuitai Electronics Co., Ltd.
Shenzhen Chenhui Electronics Co., Ltd. was founded in 2008 in Shenzhen, China. The company specializes in the development, production and sales of game accessories such as VR glasses, Bluetooth keyboards and game controllers.
Booth: 26721
54-Shenzhen Fu Ke Mai Si Technology Co., Ltd.
Shenzhen Focalmax Technology Co., Ltd. (Focalmax) is a global smart terminal manufacturer and mobile internet service provider, and is committed to creating "optics + communications + terminals + applications" based on the optical industry, mobile Internet industry and smart terminals. Complete ecosystem. The registered capital of the company exceeds US$30 million and has more than 100 R&D personnel, more than 100 invention patents and 7 publications copyrights. Focalmax released the Scati ONE machine to build a VR ecosystem.
Booth: 27021
55-Shenzhen Mi Shen Technology Co., Ltd.
Shenzhen Mi Shen Technology Co., Ltd. was founded in 2013 and is one of professional game accessories R&D and production companies. The factory has more than 200 employees and covers an area of ​​more than 10,000 square meters.
Booth: 26800
56-Shenzhen Risheng Quality Electronic Technology Co., Ltd.
Founded in 2008, the company is an expert in the field of batteries, providing complete lithium battery power solutions, including the design and selection of batteries and other gaming products.
Booth: 26819
57-Shenzhen Xinbicheng Industrial Co., Ltd.
Founded in 2001, the company is a high-tech private enterprise specialized in design, development, production and sales of computer peripheral products. After several years of painstaking operation, the company has a total investment of 25 million RMB. It now employs more than 1,000 people and has 18 production lines with advanced technology in the country. Its annual production capacity is 7.2 million sets. It is a brand of HP, Lenovo and ASUS. OEM suppliers.
Booth: 26820
58-Shenzhen Sony Electronics Technology Co., Ltd.
Shenzhen Soray Electronic Technology Co., Ltd. was established in 2002. It is a private high-tech enterprise specializing in the development, development, mold, injection molding, fuel injection and electronic assembly production of computer peripheral products. The product development, development and production The process is strictly controlled in accordance with the requirements of ISO9001. At the same time, it has its own game brand "AULA" and can also complete OEM and ODM on demand.
Booth: 26714
59-ShenzhenTopsky Technology Industrial Limited
Booth: 26927
60-Shenzhen Wobang Technology Co., Ltd.
Shenzhen VOB Technology Co., Ltd. (abbreviated as "Shenzhen VOB Technology") is a brand manufacturer specializing in smart wearable and other hardware products with a registered capital of 10 million yuan. Since the establishment of the company, Shenzhen Wobang Technology Co., Ltd. has developed self-timer artifacts, smart sports bracelets, smart watches and other products.
Booth: 26617
61-Shoogee GmbH & Co. KG
Shoogee is a German manufacturer of mobile VR glasses.
Booth: 26826
62-Tobii AB
Tobii is a Swedish eye-tracking technology company committed to changing the way users interact with computers, games and cars.
Booth: 26602
63-VISR VR Ltd
VISR is a British VR company that will announce revolutionary imaging equipment at CES.
Booth: 26217
64-VisualPathyTechnology Inc.
VisualPathy is a virtual reality platform that provides display services for VR photographers and users can traverse to various event sites.
Booth: 26920
65-Vrtify
VRTIFY is a VR/MR music platform where users can traverse to the front of the concert in VRTIFY for an unprecedented musical experience.
Booth: 26212
66-WakingApp
WaginApp's cloud platform ENTiTi allows users without any development skills to create VR/AR content.
Booth: 26821
67-Ximmerse
XIMMERSE focuses on mobile visual computing and proposes a complete set of input solutions for mobile heads to develop mobile virtual reality input devices.
Booth: 26811
68-Zhejiang Detu Network Co., Ltd.
Zhejiang Detu Network Co., Ltd. builds a professional-grade and consumer-grade VR camera in combination with cloud+end, software+hardware innovation, provides hardware production and platform construction, and provides a one-stop solution for industrial applications and technical services. User-friendly VR content platform.
Booth: 26917
69- Guangdong Somic Technology Co., Ltd.
Founded in 1999, Somic has become one of China's most famous earphone manufacturers and is developing the Somic brand globally. Mainly engaged in gaming headphones, music headphones, telephone headsets and computer headsets.
Booth: 26626
70-Guangzhou Digital Technology Co., Ltd.
The Guangzhou Digital Technology Co., Ltd., referred to as VR, is an innovative high-tech company focused on virtual reality technology development and application. It has a technical R&D laboratory, VR content studio, hardware production base and brand operation team, and has deployed more than 3,000 VR offline stores in more than 50 countries and regions.
Booth: 26426
71-Guangzhou Xinru Plastic Film Co., Ltd.
Founded in 2004, Guangzhou Xinru Plastic Film Co., Ltd. is a professional supplier of manufacturing, processing and sales of protective film. The company's LCD protection sticker has a processing capacity of 80,000 pieces per day. The product is a quality supplier to many mobile phone chain giants in China and is exported to more than a dozen countries in Europe and America.
Booth: 26619
72-Guangzhou Wei Shida Electronic Technology Co., Ltd.
Guangzhou Wei Shida Electronics was established in 2004 to supply computers, mobile phones and game accessories.
Booth: 26719
73-Transport Technology
Beijing Transmission Technology Co., Ltd. is a wireless VR solution provider and a HTC VIVE wireless solution partner.
Booth: 53030,53031
74-Shenzhen Virtual Reality Technology Co., Ltd. (3Glasses)
3Glasses is mainly engaged in R&D, production, sales, and value-added services in areas such as smart wearable devices, virtual reality (VR), and augmented reality, and covers a complete ecological chain of virtual reality software, hardware, development tools, and platforms. The main products include 3Glasses D1 (developer edition), 3Glasses D2 (blank pioneer edition), 3GlassesBlubur/ Lanpo S1 (consumer edition), 3Glasses Wand of "spatial positioning and hand tracking" scheme.
Booth: 1820
75-Big Friends VR
Lexiang Technology is a domestic VR hardware manufacturer. At this exhibition, it will be able to see the world debut of its new generation of PC helmet E3 and E-Polaris space positioning solutions.
Booth: 53137, 53139
76-Beijing Cateye Vision Technology Co., Ltd.
"Cat Eye Vision" is committed to the development of VR content. Its business areas include VR3D modeling, VR games, VR hardware devices and VR live broadcasting platforms. Among them, VR 3D business relies on powerful technology advantages thanks to its top-level technical team and VR hardware equipment. The unique software and hardware industry application solutions have enabled Cateye to gain a leading position in the industry.
Booth: 2906
77- Beijing Nadejia Display Technology Co., Ltd.
Beijing Naidejia Display Technology Co., Ltd. is mainly engaged in the design, development, production and technical support of augmented reality (AR) and virtual reality (VR) smart glasses optical modules.
Booth: 53054
78-Feel VR Inc.
FeelReal's FeelReal Mask helps users restore the true sense of smell in virtual scenes.
Booth:50204
79-FOVE, Inc.
FOVE is a Japanese company that launched the world's first eye-tracking VR headset.
Booth: 50202
80-NextVR
Founded in 2009, NextVR has 26 VR patented technologies from capture, compression, transmission and content display. After the founding of NextVR, it provides live coverage of sports events, American presidential debates, rock concerts, and more.
Booth: Venetian Palazzo Hospitality Suites
81- Qixin Yiwei
Qixin Yiwei is a technology company focused on eye tracking and eye movement control technology in China. It is dedicated to technology research and development in machine vision such as eye movement control, head tracking, eye tracking, and face recognition. The technology has been applied in the field of VR.
Booth: 18541, 1109, 1111
82- Anima Technika sro.
Anima Technika sro. The drone game team based in Slovakia has launched Drone n Base, a mobile drone war game that will be launched at the CES.
Booth: 26735
83-Beijing Ant Vision Technology Co., Ltd.
Ant Vision is a domestic VR hardware manufacturer, and its main products include Ant Vision VR helmets and VR cameras.
Booth: 26629
84-Beijing OTU Technology Co., Ltd.
Otto Technology is committed to the development of smart wearable devices. The main product is the AR Glasses CoolGlass ONE.
Booth: 26835
85-Beijing Time Cloud Technology Co., Ltd.
Beijing Xingyun Space-Time Technology Co., Ltd. was established in 2014 and focuses on AR technology to produce mobile AR glasses.
Booth: 26935
86- Carl Zeiss
Zeiss is a professional German lens company and its products include VR helmet VR ONE Plus as well as photo and film lenses.
Booth: 26429
87- Freefly VR
Freefly VR is a mobile VR headset produced by Proteus VR Labs and will be available for sale in the first quarter of 2015. Proteus VR Labs will introduce a new generation of VR heads at CES.
Booth: 26636
Draw-wire sensors of the wire sensor series measure with high linearity across the entire measuring range and are used for distance and position measurements of 100mm up to 20,000mm. Draw-wire sensors from LANDER are ideal for integration and subsequent assembly in serial OEM applications, e.g., in medical devices, lifts, conveyors and automotive engineering.
Linear Encoder,Digital Linear Encoder,Draw Wire Sensor,1500Mm Linear Encoder
Jilin Lander Intelligent Technology Co., Ltd , https://www.jilinlandertech.com