"The price pressure of YAG phosphors and yellow powder in the first half of this year is relatively large. The price of a domestic phosphor company has dropped from 10 yuan to 4 yuan." Beijing Zhongcun Yuji Technology Co., Ltd. (hereinafter referred to as "Nakamura Yuji") Mao Jian, the general manager, said that this is an abnormal way of competition. Although it can achieve the goal of expanding market share in the short term, it has disrupted the healthy order of the phosphor market.
Founded in 2006, Nakamura Yuji is a high-tech company founded by Beijing Yuji Technology, Japan's Mitsubishi Chemical, Shaanxi Shenguang New Energy and Japan Nakamura Science. It is a high-tech company founded by overseas students. It is located in Beijing Zhongguancun Science Park. The company has R&D centers and sales headquarters in Yizhuang Economic Development Zone, Beijing.
On March 2, 2012, the signing ceremony of Japan's Mitsubishi Chemical Capital Increase Beijing Zhongcun Yuji was held in Xi'an. The world's highest-end LED phosphor production base officially settled in the Xi'an Civil Space Base Industrial Park.
"Japan's Mitsubishi Chemical is optimistic about the advantages of Nakamura's red powder, and chose to jointly develop the global phosphor market." Mao Jian revealed that the company will conduct regular product technology exchanges and activities with Mitsubishi Chemical. "Because it is the initial stage of cooperation, many cooperation programs have not been formally confirmed. We are negotiating patent mutual authorization. Once realized, it will provide impetus for the rapid development of the company. At the same time, Nakamura Yuji's sales target this year will be based on last year's foundation. It has tripled.
For the current malignant price war in the industry, Mao Jian said that Nakamura will not join, but due to competitive pressure, YAG phosphor prices will be adjusted in a small range, but the core product nitride phosphor will not adjust the price system. .
"Because from the beginning, Nakamura Yuji was positioned to be a high-end product, and the product quality has been well received by customers." Mao Jian revealed that a Korean customer's test report said that Nakamura Yuji's luminous efficiency of some nitride red powder products. Even higher than the international first-line brand.
2012 High-tech LED Exhibition Exhibition Address: Guangzhou Poly World Trade Center Expo Booth No.: 2K02
Exhibition date: August 17-19, 2012

PLC Splitters are Single Mode Splitters with an even split ratio from one input fiber to multiple output fibers. Available split counts are 1x4, 1x8, 1x16, and 1x32. Fiber Optic PLC Splitter is available with 900µm loose tube single mode fiber and terminated or unterminated as per your needs. Unconnectorized PLC splitters come with no connectors for easy splicing or connectorization. Connectorized PLC Splitters are available with your choice of Fiber Optic Connectors: LC/UPC, LC/APC, SC/UPC, SC/APC, FC/UPC, FC/APC, and ST/UPC.
Planar lightwave circuit splitter is a type of optical power management device that is fabricated using silica optical waveguide technology. It features small size, high reliability, wide operating wavelength range and good channel-to channel uniformity, and is widely used in PON networks to realize optical signal power splitting. Bwinners provides whole series of 1×N and 2×N splitter products that are tailored for specific applications. All products meet GR-1209-CORE and GR-1221-CORE requirements.
We provide the whole series of 1xN and 2xN splitter products that are tailored for specific applications. fiber optic splitter plc , fiber optic cable splitter, optical splitter , Mini Type PLC Splitter , Cassette Type PLC Splitter, Insertion Module PLC are available.
Features:
Low insertion loss and low PDL
Various coupling ratio
Environment stable
Single mode and multimode available
High Reliability and Stability
High Channel counts
Wide wavelength range
Customized packaging and configuration

Applications:
FTTx Construction
Fiber Optical communication system
Fiber Optical access networks
Fiber Sensor
Fiber CATV networks
Local area networks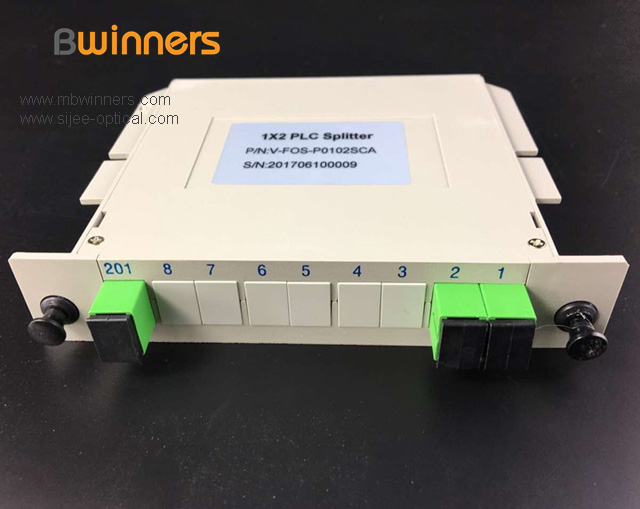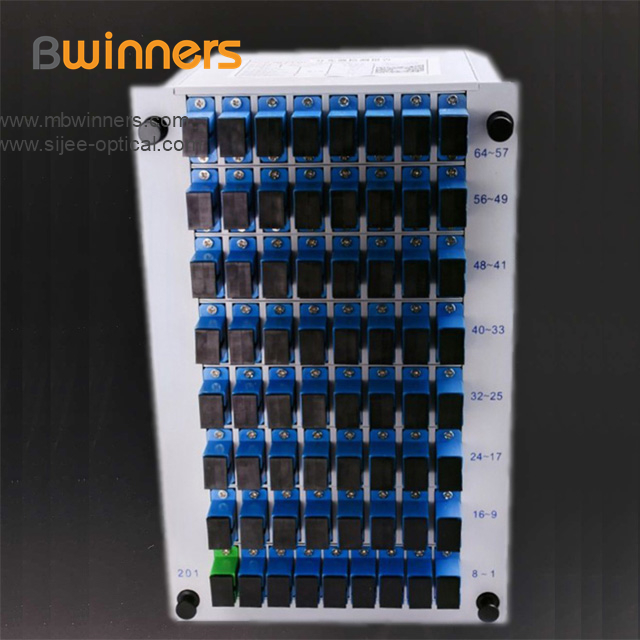 Insert PLC Splitter Module,SC APC Splitter,Plc Optical Splitter,Fiber Optic Splitter Coupler
Sijee Optical Communication Technology Co.,Ltd , https://www.sijee-optical.com